The Campground: Yet Another Devine Masterpiece
Ms. Monique Devine, the drama teacher at Holderness, has been teaching here for 15 years. For a majority of those years, she's chosen to write the fall play. This makes her unique compared to other drama teachers, who would rather choose to perform the classic Shakespearean tragedies. Anybody who has met Ms. Devine would say that she is a fun person who is always up for a challenge and writing a 90-minute two-act play yourself is certainly one of the challenges she takes on. 
This year's play, The Campground, focuses on Jenna and her two brothers, Luke and Liam. Jenna, played by Eleni Spiliotes '20, is returning to her family's little campground from New York City. After finding out that her brothers, played by Chip Peterson '21 and Jobe Gemmell-Hughes '21, haven't been paying the mortgage for the campground, Jenna is enraged! Lucky for her, her brothers have already called their friend Kash (played by Louis Liu '20) for help. Kash brings along micro-influencer Mia (played by Amber Huang '21) to help him promote the festival that will "save the campground". Jenna is extremely skeptical of this idea but chooses to let it play out. The play follows along as the festival is put together with the help of Farmer Henderson (Ethan Hayes '21) and his daughter Clover (Phoebe Fisher '23).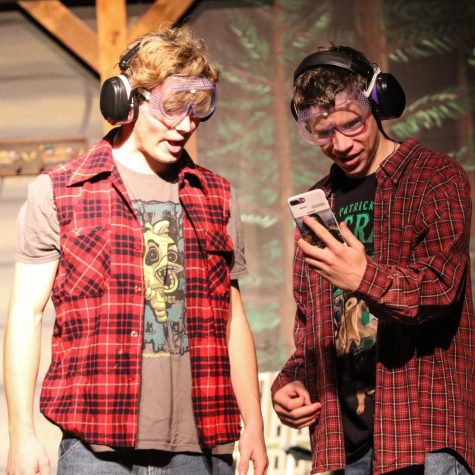 Throughout this time, campers filter through along with the recurring Serenity Sisters (played by Judy Yin '22, Gracie Roe '21, and Lisa Lin '22, with appearances by Shelby Geany '22 and Tiffany Feng '21). This is where Ms. Devine's theatrical genius comes in. For each act of the play, she includes a vignette, a short side story not relating to the main plot of the play. The first act included a break-up party with three couples who had known each other forever. Where she combined hilarious lines like "Shut up Glenn" with the couples debunking whether or not Perry actually knew if they would break up. The people who brought this scene to life were Shelby Geaney '22, John Blanford '23, Caroline Simmonds '23, Kaydence Le '21, Kyle Woodworth '21 and Jack Sawyer '21. For the second act, she addressed a more serious topic. The Martins, "From New Jersey", came up to meet their son's new girlfriend… or so they thought. Jesse, played by Carter Storey '20, actually had a new boyfriend, Alex, played by Aiden Belt '21. This was the first gay couple in any play here at Holderness and not only taught the Martins about accepting their son for who he is but also the whole school as well. Coco Chen '23 really made the scene come to life with the help of Henry Vaule '20 and Maya Clemente '23.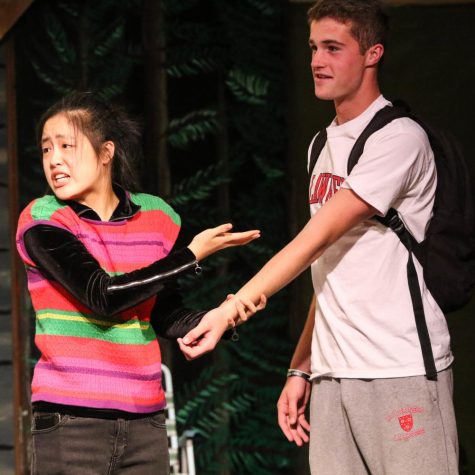 Ms. Devine wrote in an email to students involved in the play after opening night, saying
"You turned the words on the page into a story, the characters into people and brought life to the script!  What a tremendous joy for me to see your performance tonight! You have no idea how amazing you are! You respected the characters, the stories, and the script and most importantly, you believed in yourself and what you could do on stage!  Be proud!" 
Everybody in the company performed to the best of their abilities, making it impossible to not follow along. Ms. Devine is still far from done though. With the help of art in the afternoon, she helped put on the yearly faculty kids play, this year it was The Wizard of Oz. Next up is the Spring musical, which was announced recently, and that musical will be Freaky Friday!
Leave a Comment