Come for the Skiing, Stay for the Food
January 17, 2018
The whole Holderness community knows that during Thanksgiving Break the Alpine skiers head west to Copper Mountain in Colorado. It is a lesser known fact, however, that the Nordic team heads up to Craftsbury, Vermont for four days of skiing. The Craftsbury Outdoor Center is a training facility for nordic skiers, biathletes, and rowers working towards various goals. The facilities include a ski lodge, workout room, several dorms, a general store, a dining hall, and, most importantly, lots of ski trails.  
An hour after classes ended on Saturday the skiers packed up their stuff, loaded onto the bus, and left on the two-hour bus ride to Craftsbury. This year Amanda Vansant, Mae Whitcomb, Gus Whitcomb, Eli Misavage, Ben Jerome, Buzz Fisher, Rebecca Feist, and I went along with two of our coaches Pat Casey and Peter Hendel. When we arrived, rather than unpacking and relaxing, we immediately went out on the 1 km of trail that they had open, and proceeded to ski it probably over 100 times over the course of our camp.
There were three goals to this camp. The first was to get time on snow because the lack of snow in Holderness meant that for many of us this was our first time on skis. The second was to see how it felt to live the life of a full-time skier because our days were similar to those training at the elite and world-class level. The third goal was, of course, to have fun.
On an average day, we would wake up at about 7-7:30 and go for a run; the run was usually about 20-30 minutes, this was used to get our bodies moving after a long day of training the day before. After this we would go in to the dining hall which is part of the facilities and eat breakfast. Breakfast was usually some form of eggs, a meat like bacon or sausage, and a baked good of some sort. When we were all done with eating we would have thirty minutes to get ready then we would go out on the trails for our first training session of the day. These sessions lasted from 1.5-2.5 hours. Once that session was finished, we would go back to our rooms to change, and relax until lunch. Lunch was a number of different things such as pasta with sauce or a kind of rice with different flavorings, and an amazing dessert like peach cobbler; these meals always included a large amount of carbohydrates and protein because that's what best fuels our training.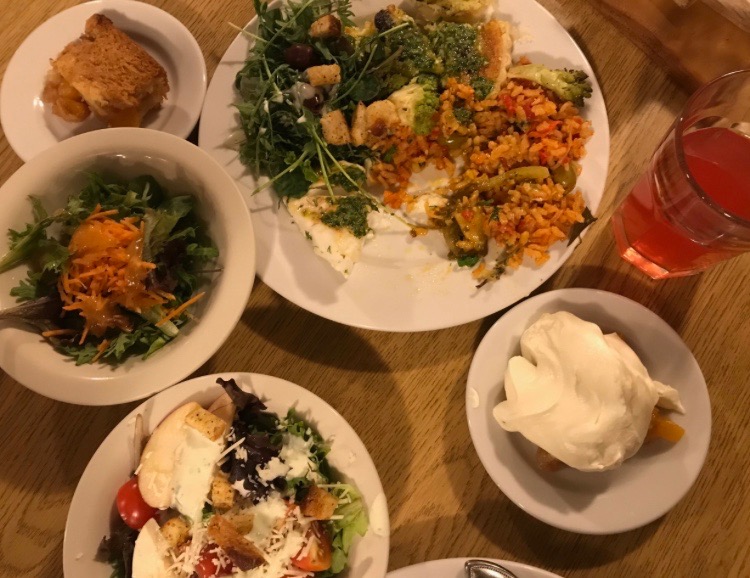 After we had eaten lunch we would "get horizontal" as Mr. Casey would say, also known as nap time . We would all go to our rooms, some would watch Netflix, some would read, and some would sleep. At around 2:00 we would be back out the door for the second session of the day. Usually we'd spend the rest of the afternoon between then and dinner showering, stretching, and waxing our skis for the next days workouts; we would also eat some sort of snack such as a granola bar, popcorn, or my personal favorite gummy bears.  Then, after a bit of rest, we would go eat dinner, where we usually had some sort of protein and either noodles or rice along with a salad from their amazing salad bar. Then we would go back to the dorm, have a team meeting about how training was going, then go to bed.
Our workouts varied. We did several over-distance workouts, where you ski nonstop for around 2 hours. These are meant to improve your technique and give you time to concentrate on keeping your heart rate low, which is good for recovery. We also did double pole intervals uphill, which means that we don't use our legs to get us up the hill, only our upper body. Another was skate and classic intervals, where you go hard and fast for a set amount of time; then you slow down and let your heart rate drop down for a certain amount of time then repeat this several times. The last kind of workout we did was a strength workout in the Craftsbury facilities gym. We did strength testing trying to figure out what our max number was in push ups, curl ups, dips, and pull ups in one minute, then after that was done we did circuit strength.
With the amount that we worked out a huge part of our camp was food. Nordic skiing is one of the top sports for burning calories. During each over-distance ski it is estimated that I burned around 600 calories according to my Garmin watch that tracked all of my activities. According to my Garmin, I also burned an average of 3000 calories each day. This meant that we had to eat back all of those calories that we had lost so that we could recover well for the next day's ski. Thankfully the facilities also had an amazing dining hall with locally-sourced food from Vermont. All of the food was amazing and each day there was something different to try, and they kept us very well fed. Along with the food provided for us we each brought our favorite snacks from home, ranging from sour gummy bears to twix to popcorn. We were also able to get pints of Ben and Jerry's ice cream from the general store which made many of us very happy.
This camp was at the beginning of the season. Therefore we are starting to see how beneficial the camp was to our skiing; since we have been skiing for two months, and some people have only started skiing at the end of December which give us a leg up on the competition.