President Hayes: Not Our President
Hang on for a minute...we're trying to find some more stories you might like.
About one year ago today, an announcement was made. With the student body gathered in chapel, then-President, A.J. Chabot, opened the envelope. "The next president is… Brooke Hayes!" The room filled with cheers as Brooke made her way to the stage. From that moment on, Brooke's presidential career has been on a downward spiral. In direct response to the plight of President Hayes, a movement has been growing amongst the student body: the "Not Our President" movement. The student body has realized that Brooke is not the political powerhouse that her voters thought she was. Here's what has caused the recent surge of momentum in the movement.
Brooke is an insomniac, lucky to get five hours of sleep on a good night. Every morning, she wakes up late and throws on "dress code." Her parents say she often spills her coffee or breakfast on her way out. She then speeds to school (accumulating eleven tickets so far this year), and pulls into the parking lot blasting her strange music. Clearly disheveled, she then rushes to her first block, often several minutes late. This past week, she even showed up late for Chapel, one of the most important community and sacred events in our community.
Prior to her election, Brooke was a very different person; she smiled as she passed you on the path, always radiating cheeriness. Pass Brooke on the path now, and she cackles hysterically as you lock eyes. A simple question of "How are you, Brooke?" gets you an unintelligible answer, borderlining on hysteria. Brooke is not the same person who was elected president, you can see it in her eyes. The empty thousand-yard stare suggests she has written one too many unread proposals, responded to more emails than she should have (some say she replies to every email to bulletinboard, even the ones about sports that don't involve her), and ran a few unnecessary leadership council meetings. Brooke was our president, but it's time for us to move on. The "Not Our President" movement seeks to remove this tired tyrant from office before she explodes into a pile of proposals.
About the Writer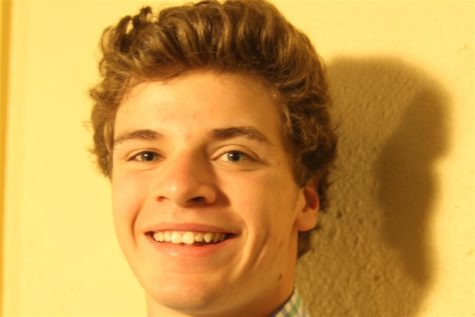 Carter Bourassa '17, Editor
Hi, I'm Carter Bourassa. I am the only surviving male editor of The Picador.